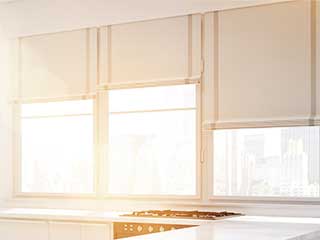 Sometimes, you want to keep out all sunlight down to the last photon. But you certainly don't want a claustrophobic old shutter ruining the room's atmosphere. The solution? Blackout blinds! These window treatments are made of opaque, light-proof panels that you can rotate to close off the entire window surface. These window treatments are adaptable, long-lasting, and well suited to any San Mateo home or workplace!
Types Of Blackout Blinds
To be "blackouts," a set of blinds must completely close off all sunlight and visibility through the window when closed all the way. Within that definition, there's plenty of room for variety. You can have vertical blinds for longer windows and doors, horizontal blinds for taller windows and even motorized blackout blinds with remote or computer control. As long as they do their job of keeping the sun and noisy neighbors 100% out, they can be made of any sort of material. The word "blackout" might conjure a certain mental image, but these window treatments can be any color at all. All that matters is the opacity and the interlocking closed position.
The Top Blackout Blinds In The San Mateo Area
We at Automated Shading & Blinds have been in this business for quite a few years now, and our repertoire is always growing. We specialize in custom-designed window treatments made to buyer specifications, and we include professional consultation to help you make good choices, including budgetary ones! We can craft our custom blackout blinds from your choice of materials and padding. And with any color or decoration scheme. Choosing blackout blinds for bedroom windows will provide the level of privacy and comfort you want at a low and affordable price.
Dark Blinds For Home Or Office Use
Blackout blinds in San Mateo bedrooms make for one of our most common requests. If there's one room in the house where you probably want it dark and private sometimes, it's the bedroom. Living rooms, lofts, galleries, and others can also have use for total sunlight blockage, but your sleep should always have priority! Office blackout blinds are another very common sight. Aside from being distracting, a workplace window with only partial shading can cause serious, tangible problems. On bright days, they can damage computer screens, reflect off papers and desks in a painful glare, or shine right into the eyes of waiting clients!
Blackout Blinds For Skylights & Doors
Our design team is nothing if not inventive. And our craftsmen can build anything we help you design. This means that typical, rectangular windows set in vertical walls are just one of many types of opening we can fit our blackout blinds to. Custom making the window treatments to the needed dimensions allows us to flexibly craft covers in a huge variety of shapes and sizes. French doors with blackout blinds are both elegant, and protective, without losing any functionality. Blackout blinds for skylights and ceiling-windows do a great job of protecting your furniture and carpeting from the midday sun. Sliding glass doors, bars, glass walls, we can fit them anywhere!
Free Consultations Anywhere Near San Mateo
Automated Shading & Blinds offers its packaged consultation, design, and delivery & blinds installation services everywhere in the San Mateo area. When you want to have new blackout blinds custom made and installed on your windows, you turn to us. See the wide selection of choices and customizable options you can pick to ensure your new blackout window treatments meet all your needs. Call and schedule a free estimate today!