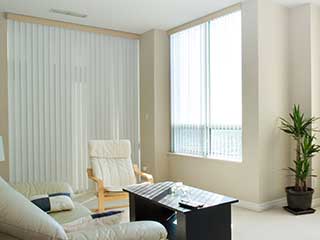 Don't waste your time with high-priced designs that don't suit your needs. The Automated Shading & Blinds team offers only the best quality custom vertical blinds, and our prices are available at low prices. Pick and choose between wood, aluminum and vinyl blinds that work for any room. Get amazing designs that suit your home or business down to the ground, and use our vertical blinds installation service to ensure the whole process is hassle-free. For the best deals on vertical blinds near you, we're the company you need to choose. Get in contact with us to arrange a free consultation at your address. There's never any obligation to buy, so simply schedule an appointment at a time to suit you.
Excellent Low-Cost Vertical Blinds in San Mateo
Our rates on window coverings are amazing, so you'll never have to agonize over prices. Simply find the right set of vertical blinds for patio doors, for instance, and you can get started straight away. The made-to-measure design process that we use makes it extremely easy to create products that are perfect for your property, while still keeping costs low. For vertical blinds for sliding glass doors, or for windows anywhere in your property, we're the business that gives you what you need. Don't put up with the wrong window coverings any longer. Our San Mateo-based blinds experts can help you find the ideal vertical blinds for your home.
Amazing Motorized Blinds Deals
One of the most exciting products available these days is wireless or wired remote control blinds. These let you easily control the position of your window coverings no matter where you are. Thanks to smartphone integration, it's possible to adjust your blinds remotely even if you aren't at home. Motorized vertical blinds fit well in a variety of situations, and are a common choice in workplaces with many coverings to control. Rather than operating all the vertical blinds for office windows by hand, simply adjust them from a central control panel. This means more comfort and less stress, a winning combination in anyone's book.
Different Types of Vertical Window Treatments
Every product we make comes with our guarantee of high-quality workmanship. Our designs use only the best materials around, no matter whether it's for vertical blinds with curtains or any number of other products. The sheer range of options that we provide makes it easy to find window coverings that do more than just keep the sun out. Our vertical blinds for windows allow you to enhance your home even further, complementing your existing internal decor to achieve a cohesive, attractive design. See our products in person when you schedule your free consultation anywhere in the San Mateo area.
Your Local Vertical Blinds Installers
Automated Shading & Blinds stands as the go-to company in the SF bay area when it comes to custom making and installing vertical window blinds. Our great selection of materials and colors makes complementing the surrounding décor easy. Whether for French doors or skylights, our custom motorized vertical blinds can offer you the shading solution you've been searching for. When you want the best quality at the lowest price, it's our San Mateo-based team you need to call. Start designing the perfect vertical window treatments for your Silicon Valley home or business today. How? Simply pick up the phone and contact our team to schedule a free consultation.