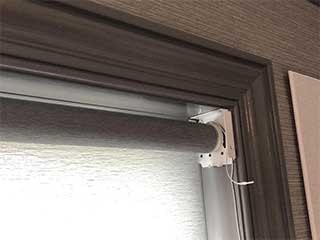 Welcome to the product page for high-quality custom motorized blinds! We offer a long list of products, including blinds from Lutron, Somfy, and other trusted manufacturers. Call us today, and you can get a free consultation visit and quote anywhere in San Mateo or nearby. We offer delivery and installation services with all motorized blinds products, and some of the best prices on the local market!
Why Choose Motorized Window Treatments?
What makes it worth ordering motorized blinds or window shades rather than the old fashioned kind? Quite a few things, actually! Motorized blackout blinds in your San Mateo bedroom save you a ton of time and energy. Especially if you have a space with lots of windows to attend to. Having remote controlled blinds means you can just stroll through the hall and raise or lower each with the press of a button. Get your blinds connected to a light sensor or an app system like Google Home or Alexa, and things are even easier! If you have delicates to protect, nothing keeps the sun away better than some motorized blackout blinds with smart controls. Last, motorized window coverings have no hanging drawcords. That means no risk for your young children!
Custom Motorized Blinds In San Mateo
Our inventory includes everything from airy, light-filtering motorized window treatments like Somfy blinds, to heavy-duty wood or metal blackout blinds. Part of what we do is fitting the motorized blinds to the window and room. For instance, do you have a wall-length window or a French door that needs covering? Our consultants might suggest motorized vertical blinds. For a big office area with lots of windows and not much space in the frames, we'd recommend motorized Venetian blinds or roller shades. Color, material, and style beyond the structural needs of the motorized blinds are all up to you! You'll have our professional opinion, but the final judgment is always yours. At Automated Shading & Blinds, we believe in including you in the design process. Our custom motorized blinds options include:
Motorized Blackout Bedroom Blinds
If you need some remote controlled blinds for a San Mateo bedroom, guestroom, or gallery, these blackout motorized window treatments offer a great solution! Blackout blinds are the most protective type of covering. They let no sunlight in and minimize visibility through the windows. This makes them perfect for adding privacy that you can benefit from during the day or night. Now combine these motorized blackout blinds with some smartphone or sunlight sensor control. Sunlight damage becomes a thing of the past. You can use your phone or tablet as a remote and draw the motorized blinds from anywhere.
Remote Control Vertical Blinds
Vertical blinds are meant for the doors and windows with troublesome frame shapes that most other types won't serve as well. The vertical vanes do a better job with large surface areas. Motorized vertical blinds come in a very wide variety of materials, including faux wood and aluminum. If your San Mateo home has patio doors, you can get motorized vertical blinds to go over them. The same goes for window walls in office spaces or other residential/commercial establishments.
Motorized Venetian Blinds And Shades
For shallow window frames without room for thick, rigid panels, these more flexible options excel. Motorized roller shades just need a tiny bit of room on top of the window to mount the opener and spindle. Motorized Venetian blinds take even less, and combine the better traits of blinds and shades. Our motorized roller shades and Venetian window coverings include models from Somfy or Lutron blinds and various other brands.
Make Your Motorized Window Treatments Smarter
Remote controlled blinds and shades are a good start, but why stop there when the digital age offers so much more? Electric window treatments can open and close themselves depending on the weather and time of day with our Somfy photosensors. This is especially helpful if your order includes motorized roller shades with spectrum filtering properties. Our installation team can also connect your new blinds to your smartphone or central AI assistant program, using Lutron blinds and shutters networking technology. You can now manage your home or business' light conditions from anywhere in the world at will using smart motorized blinds!
Motorized Blinds For Your San Mateo Windows
Electric window treatments with remote controls can improve your entire quality of life. They also add a lot of utility (and potentially style too) to various office spaces and other commercial properties. Learn more about motorized blinds for your San Mateo home or business by booking a free estimate appointment today!