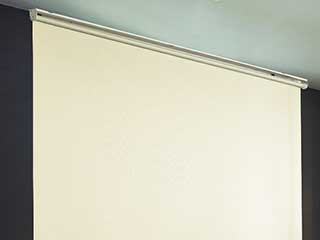 Are you looking for window coverings that are simple, and versatile to match any room in your home? Our professionals are ready to help you find the right fit for you in no time! One of the most popular styles of window treatments in San Mateo is roller shades. Thanks to their straightforward build, and how easy they are to customize, these roller coverings are popular all over the SF bay area. Automated Shading & Blinds can assist you in finding the right pattern, texture, and color to suit each room in your home or office. Roller shades take up little space as well, making them lovely for apartments too! You can also get them as exterior shades for patios, gazebos, or decks.
Keep Sunlight Out with Blackout Roller Shades
As nice as natural light can be, sometimes you may need to make your bedroom completely dark for that much-needed nap during the day! That's where our blackout roller treatments come in. They'll be custom made to fit your San Mateo windows, and that means there's no chance of gaps to let light through. Just because the fabric completely blocks light doesn't mean you're stuck with black or dark colors either. You can still choose from various types of fabric as well as bamboo roller shades, in various colors. Need that pesky streetlamp to disappear when it's time to sleep at night? Blackout roller shades can help with that. Looking to rest during the day without the sunlight outside preventing you? You'll find blackout roller shades can offer you comfortable sleep 24/7.
Reduce Sun Damage with Sheer Roller Shades
Why risk sun bleaching of your precious furniture when you can have the best of both natural light and protection all in one? Sheer roller shades will let in diffused sunlight for you to enjoy in areas such as the living room or kitchen. They do that while helping reduce the heat that would otherwise come from letting in direct sunlight. Roller shades diffusing sunlight also reduces the UV rays that cause damage to books and other belongings. So you won't have to concern yourself with worrying about damaging wallpaper or furniture from prolonged exposure to direct sunlight.
Custom Motorized Roller Coverings
If you have out of reach windows in your office space or home, Automated Shading & Blinds can help there as well. With motorized sheer roller shades offer many benefits, from improving home safety to reducing energy spending. Using the timer function allows you to have your motorized roller shades adjust themselves throughout the day. It also gives the impression that someone is always home, thus helping to deter thieves and burglars! Our motorized roller window coverings can connect with your smartphone or tablet via Wi-Fi or Bluetooth. Because of this, you can tell them to open or close whenever you want, from a larger distance than the average blinds remote control handset. Optimizing your daily utilization of sunlight can help you save money on energy on a regular basis.
Best Deals on San Mateo Roller Shades
You've got quite a selection of options to choose from for your new window coverings. That's why Automated Shading & Blinds offers free estimates and consultations with our local blinds experts, in-person at your local bay area home or office. We manufacturer all our motorized roller shades right here in the US, and offer a satisfaction guarantee to every customer. Want to see all the customizable options and design new custom blinds or shades for your windows, doors, or skylights? Then call us anytime to book a no-obligation consultation!