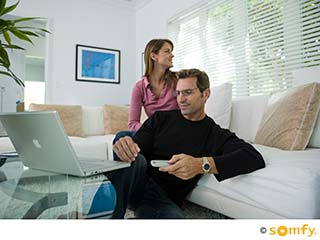 Window treatments make an awesome fashion statement for your property, but they also do a lot more than that. A lot of the building's natural heating and cooling happens through the window panes, and having blinds in place at the right times saves on AC and heat. Blinds also protect your furniture and wallpaper from sun damage and keep out prying eyes that could lead to break-ins. With smart motorized shading solutions like Somfy blinds, you get all these benefits delivered in the most reliable and time-saving way possible! Our team creates custom blinds and shades for indoor and outdoor use and installs them all over San Mateo and nearby.
Motorized Blinds And Shades
There are a ton of options as far as style and look are concerned when it comes to window blinds. The vast majority of these styles, from Venetian blinds to Roman shades, are easy to design in the motorized form. Just replace the drawcord with a motorized spool, and hook that up to either an onboard battery or a power cord! Aside from those basics, Somfy motorized blinds include remote control, smartphone-connected, or home network command systems. With the more advanced computerized systems, your blinds will open and close themselves in response to the weather and time of day. You don't need to be there, or even remember! Automation is the most reliable solution, and you can get your automated shades installed in any San Mateo area residence, workplace, or other.
Remote Control Blinds, Draperies & Shades
Those three words, blinds, draperies, and shades, often get treated as synonyms. They actually refer to different things, though! Blinds are made of multiple panels that have some space in between. Usually, you can rotate or separate the panels to let in some light, or close them to shut it all out. Shades are single sheets of flexible material that roll or fold away to open the window and relax again to cover it. Draperies and curtains are hanging sheets that hang loose and often slide away to the sides. Each of these comes in many variations, but they are the three basic categories. Which style is best for the room in question is something our consultants will be happy to help you decide!
Outdoor Shades and Motorized Patio Covers
Pergolas, porches, and patios have most of the same issues as indoor rooms in terms of sun damage to furniture. They also can be uncomfortable for people to use when the sun is too bright or when it's raining. Somfy motorized patio shades and canopies have the same diversity of styles and materials. Just like window shades, we'll design your motorized patio covers to order.
Best Deals on San Mateo Somfy Blinds Solutions
Enjoy the latest advanced remote control technology for window treatments with smart blinds utilizing Somfy controls. Book your appointment for a free consultation and estimate and ask our professionals everything you want to know about remote control window coverings and outdoor motorized shading solutions. Get a free quote and pick and choose the features and looks you want for your custom Somfy blinds and shades!