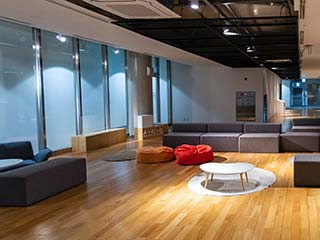 Both decor and efficiency benefit when you opt to install motorized window shades at your property. Lutron shades bring your San Mateo place of work or home environment a whole raft of advantages, the first of which is that they look so great. These window coverings are always made to the very highest standards, with a huge selection of styles to choose from. The biggest attraction, of course, is that Lutron shades are motorized for silent operation. Choose from nearly any type of control option, such as wall switches and dimmers that are convenient in any room.
Electric Window Shades
Alternatively, you could pick a more cutting-edge option such as WiFi integration. This is amazing because it allows you to link Lutron shades to your smart home system, or your smartphone. Want to explore the range of smart window coverings in San Mateo? Shades installers from our team will give you the run-down on everything you need to know and help design the perfect system for your property.
Sheer and Blackout Motorized Shades
Convenience is just one part of the package when you choose Lutron shades. There's no need to forego great looks, just because you want something that works really well. Lutron shades, blackout-style, give you an easy way to cut out natural light whenever you want it gone. That's perfect for bedrooms, so you can always get a good night's sleep, and be sure of privacy. At the other end of the scale are custom sheer motorized shades. These diffuse light rather than blocking it, which makes them ideal for when you want to create a natural ambiance. Install sheer Lutron shades in your San Mateo kitchen or living room and you'll quickly see why they're such a popular choice! Either way, Lutron motorized shades are the perfect upgrade for any local area home or business.
Best Quality Lutron Shades For San Mateo Properties
To find the right motorized window shade system, you need to carefully consider what you want from it. The best way to do this is with a free consultation from our expert San Mateo Lutron shades installers. We'll explain the range of options, show you what you can choose for each part of your property, and do all the hard work. For a free estimate on Lutron motorized shades in your area, contact our team and schedule a free consultation.