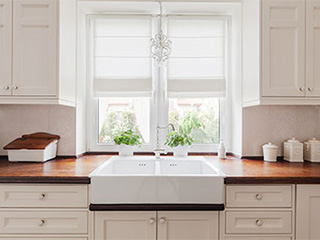 One sure method of sprucing up a room is by adding elegant Roman shades to the door or window. These coverings give the room a major décor enhancement that's hard to compete with. What are Roman shades, you might ask? These fabric window shades don't roll up on a spindle but instead, fold into a stack of pleats beneath the upper window frame. Adjusting a set of shades into a half-open position leaves them with a gently scalloped texture while closing them creates a smooth fabric surface. Roman shades haven't gone out of style for centuries, and your own San Mateo home or business can only benefit from their addition!
A Range Of Classy Options
Like most Automated Shading & Blinds products, our Roman shades are custom-made for each buyer, and available in your choice of colors and fabric types. If you'd like a homier look to your set, consider making them relaxed Roman shades. This style hangs down in the center, adding more curves to the already sensual pleats and providing more filtered light when left half-open. You can also have your window shades of any style embellished with tails, tassels, or trim. Slits, embroidery, and other ornamentation is on the menu as well; just ask us about the possibilities!
Roman Shades For Any San Mateo Home
While they're best known for bedroom and parlor windows, Roman shades can work just about anywhere if you know your way around interior decorating. Thinking about window coverings for bathrooms? With a light color scheme and a well-placed window, they can work! Kitchen Roman shades, or coverings for the hallway, and more have all been implemented to good effect. Automated Shading & Blinds can also set up some Roman shades for your French doors, or put these coverings on sliding glass doors. Perfect for any balcony, porch, or patio!
Go Cordless With Your Roman Shades
A drawcord for your blinds or shades can be hazardous to pets and children, as well as just plain distracting. That's why our custom Roman shades come in magnetized options. Magnetic Roman shades will stick in place where you leave them along the window frame until adjusted again. No need for lines, cords, or handles! For maximal convenience, you can also go with motorized Roman shades. Smart shades that you can set by a timer or sunlight sensor are a credit to any San Mateo residence or business. Motorized Roman shades combine old fashioned aesthetics with modern convenience!
Roman Shades With Curtains Or Valences
Roman shades combine well with other window treatments. You can get them installed with various draperies for a serious boost of elegance. Give your set of custom Roman shades some valences and curtains, and you'll have a centerpiece for any room. You can also have us install your Roman shades over a set of thin solar shades, for maximum light control and aesthetics. With the addition of some embellishments or stylistic additions described above, your curtained Roman shades can make a palatial display!
Arrange a Free Consultation Visit Today!
Our interior design experts can get to any San Mateo address at your soonest convenience. Get a free in-person estimate on the custom Roman shades you want, and we'll get started right away. Automated Shading & Blinds provides delivery and installation services for completed window shading products, with flexible scheduling. Get in touch with us for the most affordable Roman shades near you.