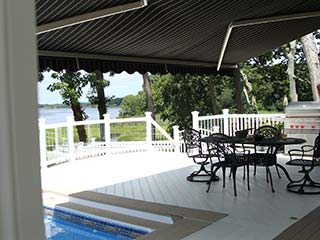 From simple hand-raised sail shades to sophisticated motorized patio covers, outdoor sun protection makes your property much easier to use. Whether you have a small balcony or a sprawling courtyard, some protective shades are a cheap, low-effort way to improve it. There's a lot of choices to pick from, and some of it is as much down to personal taste as structural requirements. For motorized patio covers, San Mateo area customers come to us to see the different variations on outdoor shading solutions that best meet their needs. From awnings to pergola screens and more, motorized outdoor shades can contribute to both décor and utility in any backyard deck or patio.
What Patio Shades Provide
One thing that all types of patio covers provide is sunlight protection, either partial or complete. Aside from keeping glare out of your eyes and UV rays off of your skin, this gives you more freedom in outdoor furnishings. Sunlight, dust, and moisture can damage furniture, and patio covers will keep some or all of those elements away depending on what type you get. Shades and canopy tents also give your porch a more comfortable, closed-off atmosphere when you want it, and give you the option of privacy. The degree of protection depends on both the material the covers are made from and the degree of coverage. Pop-up canopies and freestanding shades protect from most or all directions. Hanging shades like awnings are more directional.
Hanging Or Freestanding Patio Shades?
Outdoor shades can be divided into those that hang from an existing structure, and freestanding structures that support themselves. Hanging shades include sail shades, awnings, and patio window shades. Types of freestanding patio shades, meanwhile, include pop-up canopies, dug-out mounts, and pavilion covers. Freestanding shades are better for covering large spaces, and many types can incorporate preexisting structures into their support system. This is often the case with canopy tents and large or multipart sail shades. Most of these styles are available in old-fashioned hand-adjusted variants, or as motorized patio covers. The practicality of either depends on exactly where you're mounting them.
Go A Step Beyond With Motorized Patio Covers
Just like indoor window coverings, patio shades work well with electric motors and remote controls. At their simplest, motorized patio covers are wall switches or two-button handset operated devices that make things a little more convenient. At their most advanced, motorized patio covers and outdoor shades form part of smart house systems that self-regulate with little need for your attention. Automatic covers let you furnish your outdoor property however you want with the knowledge that it can protect itself from the weather. Even if you're not around to adjust them, computer-controlled motorized patio covers keep patio furniture safe from sun-bleaching and rain. You can also choose motorized patio shades with Wi-Fi and smartphone control, letting you decide for yourself how to react to the weather reports. Even from across the world.
Motorized Shading Solutions For San Mateo Patios
All of our outdoor shades and patio covers are made to customer specification, with in-house design and assembly. You can have our consultants over absolutely free to advise you on the best styles and structures for your property and your price range. Call us today, and we'll schedule the appointment with San Mateo's leading motorized patio covers specialists in your area! With this free estimate, you can look at all the options and pick and choose the features and aesthetic that you like best.