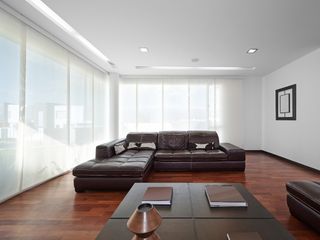 Are you tired of the glare from the sun, the heat, or the prying eyes of your neighbors and customers? Roller shading systems may be the solution you've been looking for! They offer a host of benefits that make them an excellent investment for any home or business. Here's why:
Control the amount of sunlight that enters your space
Roller shading systems give you complete control over the amount of sunlight that enters your space. They come in a variety of fabrics and opacities, so you can choose the perfect one to match your needs. Whether you want to block out the sun completely or let a little bit of light in, roller shades can help you achieve the right level of lighting.
Energy Efficiency
The right roller shading system can help you save on energy bills by reducing the amount of heat and UV rays that enter your home or business. This can keep your space cool during the summer months and warm during the winter, reducing the strain on your HVAC system and helping you save money.
Privacy and Security
Roller shades can help you protect your privacy and security by blocking out prying eyes. They are particularly useful for businesses that want to keep their products or services hidden from view after hours. Some roller shading systems even come with additional features like motorization, which makes them easy to operate and adjust from a distance.
Stylish and Versatile
Roller shading systems come in a wide range of styles and colors, making it easy to find the perfect match for your decor. They can be customized to fit any window size or shape, so you can create a cohesive look throughout your space.
Easy Maintenance and Durability
Roller shading systems are easy to clean and maintain, making them an excellent choice for homes and businesses. They are durable and long-lasting, which means you won't have to replace them as frequently as other types of window coverings.
In conclusion, roller shading systems are an excellent investment for any home or business. They offer a host of benefits, including sunlight control, energy efficiency, privacy and security, style and versatility, and easy maintenance and durability. If you're interested in installing roller shading systems in your space, contact San Mateo Blinds today to schedule a consultation!